We are now able to show our beautiful little boy's face on our blog!!

YAY!

Isn't he handsome?!

Look at those sweet eyes, those precious little hands ...

He is truly one of God's masterpieces.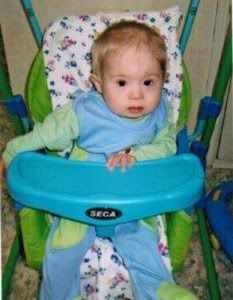 So we have a few fundraisers going on right now.

Every amount that is donated will help us get him home as soon as we can!

The country that we are adopting from can be pretty quick so we need to have the funds ready as soon as possible.

We are in the midst of getting our home study typed up so that we can review it and then we will continue working on our Dossier package that will be submitted to his country.

So much paperwork!!

So when his country reviews the Dossier, they will invite us to meet Finn.

We can hardly wait!

Thank you so much to those who have already donated to our Finn.

You have blessed us so much!

Thank you to those who continue to pray for us and encourage us.

Above all, we need prayers and we feel confident that God will provide!
Here are some fundraisers that are listed under our Fundraisers tab.

On that page, you can see our active fundraiser buttons to click on.
Our friend, Joe Copous, is running a 16K in Paris on Sept. 25th.

We are taking pledges per km or lump sum.

No money is needed now and an email will be sent to you once "Papa Joe" completes the race!
We have an ongoing Scentsy fundraiser by Jody Clark.. She is giving 100% of her commission to us to help us bring Finn home!

110v and 220v warmers are available!
Just Love Coffee is a website that helps families fund adoption.

You can buy bags of coffee from them and they will give us $5.00/bag!
We have 2 different donation buttons on our page.

One is a Tax deductible donation for Reece's Rainbow and this money goes to Finn for us to use to adopt him.

We get 90% of that donation.

If for some reason Finn becomes unavailable to adopt, we will still be able to use those donations to adopt another child.

We will not be able to receive the money until we are traveling to get Finn.

If you would like to donate to this grant, click on his picture to the left side of this blog.

We also have a Non-tax deductible button that goes directly to our Paypal account and we can use this money to get certain things paid for before we travel.

You do not have to have a Paypal account to donate,

you can use a credit card or an e-check through both of these methods.
If you have any fundraising ideas, please share them!

If you feel that you may be able to do a fundraiser for us, we will definitely appreciate it!
Thank you all so much!

Your support is awesome!