Maria's View-
I hope we are not boring y'all too much with our blogs. Everything is such a routine now so it's not too exciting! But we really do appreciate all of you for following our journey, praying for us, and sending encouragement when you notice that we may need it! All of you are amazing!!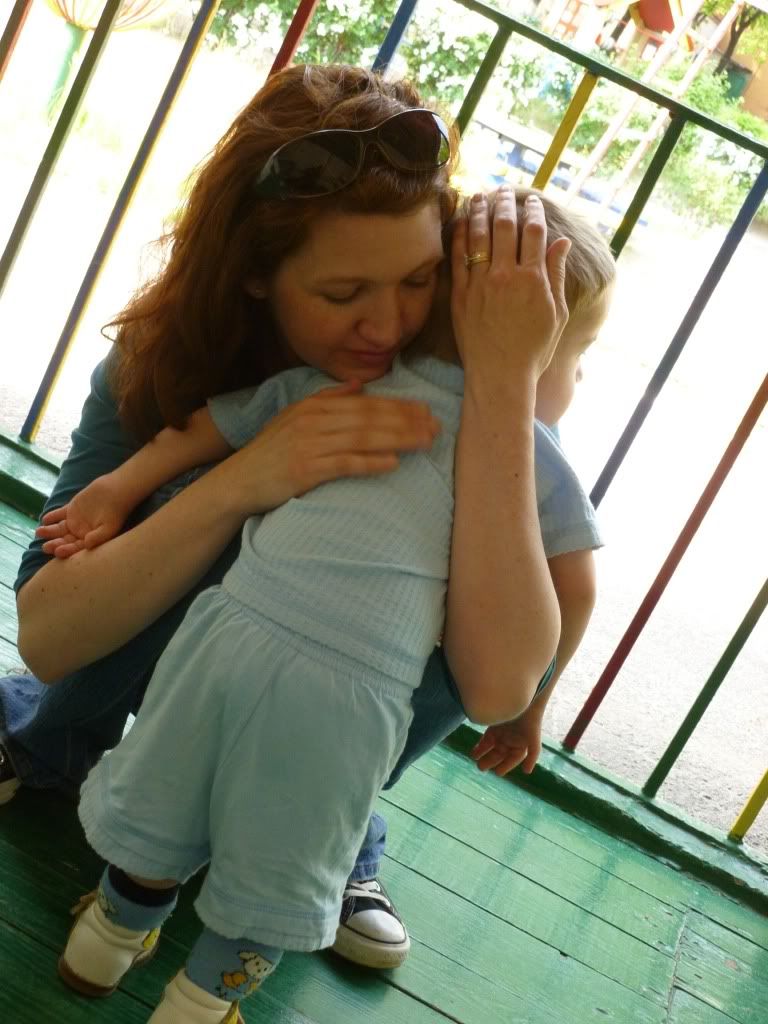 But anyway, we did our normal thing today and practiced a lot of walking. I really believe that he is getting stronger since it seems that his stamina has increased. We are very proud of him!
It seems that the nannies in this groupa try to dress him well, like in coordinating outfits, and all boy clothes. Since being moved to this groupa, we haven't seen him in pink at all except for a bit of pink on his tights. He has been wearing cobalt blue for the past 2 days and I really like that color on him! He's so handsome.
We ran into the twins again today and they latched onto my hands and I had to pry their little fingers off! Trust me, I didn't want to, and I did it lovingly... There is a little girl in their groupa with Down syndrome, beautiful blond hair, very independent, and she broke away from the groupa and jumped onto Chris' legs in a bear hug. Her feet weren't touching the ground! Chris bent down and squeezed her! I wish I could just bring her home, too!
All the nannies were cleaning toys outside today in soapy water. They are really good about trying to keep everything as clean as they possibly can! On our way out, the nanny asked us if we would buy Pampers and I believe she was being very specific with the brand so we bought some at the grocery store and took them to the evening visit. 70 Pampers cost around $19.00. For the last groupa, we bought the store brand of diapers. They didn't specify like this groupa did. They thanked us over and over again for them. She made a motion as if the others may leak on him, maybe? I wish I could speak the language! Since we were on the subject, I asked the nanny, by pointing to the potty chairs, if Griffin ever used them. I believe that she was telling me that he mostly wets his diapers but he may do "poopka" in the potty, sometimes. What I plan to do is buy 2 Russian potty chairs since they are so small and let Griffin and my little G use them. That way, Griffin will have what he is use to and if Little G wants to give it a try, they won't have to fight over them! :-)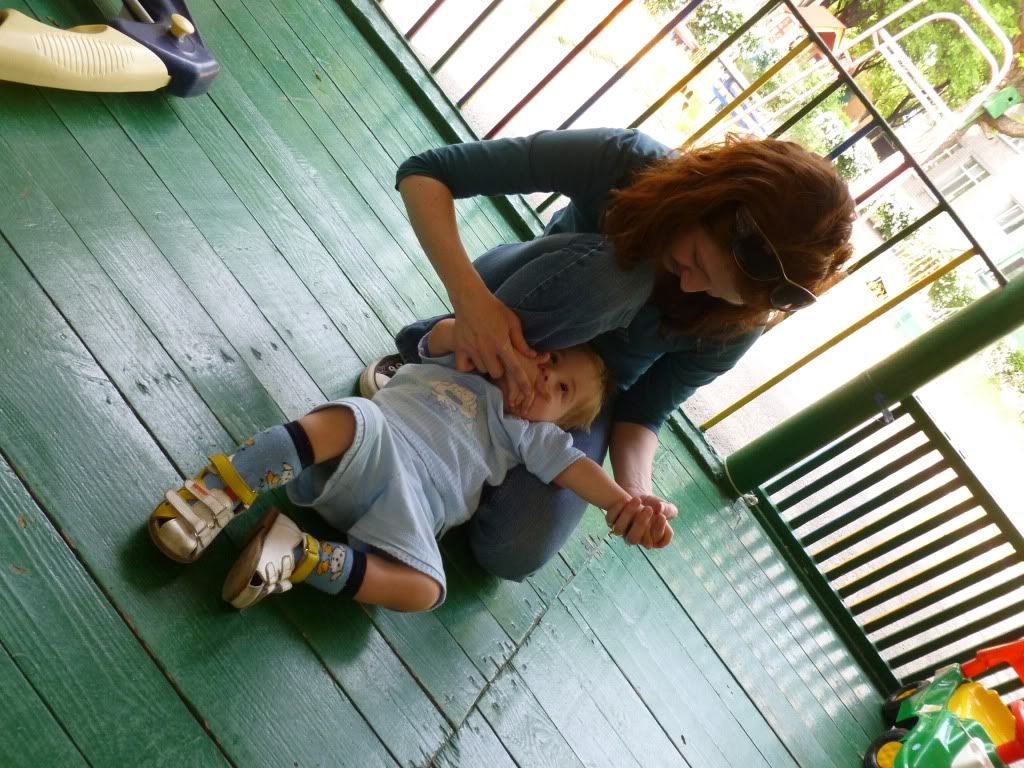 Our little dude was even happier on the evening visit. We just knew that we wouldn't get to play outside because the thunder was rolling in, but we were wrong. No rain, so we played outside for 1 hour and 30 mins. He laughed and laughed! He even responded to "ee dee tu da" go there, "ee dee syu da" come here, while going back and forth between the 2 of us. I almost feel like we are having to teach him Russian so I'm not sure if we should stop speaking Russian all together or use Russian and repeat it in English.
Anyway, we had a wonderful visit and were sad to have to return him to the nanny. Again, they thanked us over and over for the Pampers...
We are trying out a new dish tonight made with Lavash shells... Chris is frying up the chicken right now! We also have to mix together a dill sauce and sprinkle it with cheese. Lavash shells look like flour tortillas and so the whole thing will look like a quesadilla but it's a local dish here. Hopefully it will be good!
Chris's View:
Today, let's talk ice skating. It's pretty hot outside here, and today it was humid too, so ice is a good topic!
Inside the Karavan, they have a full size ice skating rink. We usually sit around the glass and watch the skaters while we have our lunch each day. The best I can tell, since everything is written in Cyrillic, they have hour long sessions, and you pay and skate for an hour, then leave, or wait for the next session if you are a hardcore skater. Usually, between the sessions, they have the Zamboni resurface the ice, or sometimes it just sits empty. You have all types that show up there.
I do not mean to laugh about people's injuries, but to me, it seems like it is always the people who appear to have been just at the Karavan and decided to skate that wind up getting hurt. I have seen a young girl fly and land on her ribs, and she immediately grabbed them in obvious pain, I saw a guy who landed face first and bloodied himself up (they even had to come scrape the blood off the ice for him since he left a trail along the ice), I have seen people limping off the ice, but, thank God, I haven't had to see anyone get carted off by paramedics. The bloodied guy was the closest. I could just imagine the person's day... they had a great afternoon shopping, found some awesome sales, got that trinket they had been saving for, ate some decent food, then someone in their group was like, "Hey ya'll, let's ice skate!" Everyone was all for it, but this person was reluctant, feeling accomplished for what they had gotten done that day. Ultimately though, peer pressure wins out and they strap on a boot with a knife blade on the bottom of it, then 1 short hour later, they are being hauled off to the emergency room with a broken arm or something. Man, what a way to top off your day, huh?
The other side that I saw was the arrogance of some of these good skaters. There was a child, obviously just learning to skate, and he was moving a training block (looks like a 6-8" ice cube in bright colors) out on to the ice to practice with. This older gentleman, would come over, grab the block and move it off the ice. The kid struggled to get back to the door, grabbed another one and the same series of events took place. I told Maria that if I was that kid, I would do everything in my power to get in this guys way. I would make him rue the day that he tried to bully me off the ice. The good skater eventually bit it hard on the ice during a jump of some sort... I hope little guy got a good laugh out it... that's karma for you!
See ya'll tomorrow!