Maria's View-
This morning at the orphanage we saw and experienced a lot. Some good, some bad.
Our evening visit went very well. We have now stretched our 20 min allowance of outside time into our entire visit of 1 1/2 hours. I think they are pleased that we want to stay outside with him since it's so pretty outside. Our little dude is so pleasant and peaceful. He just seems so content and he is smiling more and more with those serene, natural smiles. Those smiles make me think that he's saying inside that cute little head of his, "yeah, this is nice." I hope that one day you can meet him and you'll understand what I mean!
He is loving his stuffed giraffe more and more. He held it for almost the entire time we were outside. We have lovingly nicknamed it "giraffe meat". I think we will leave giraffe meat behind on the 10 day waiting period so that maybe he will think of us.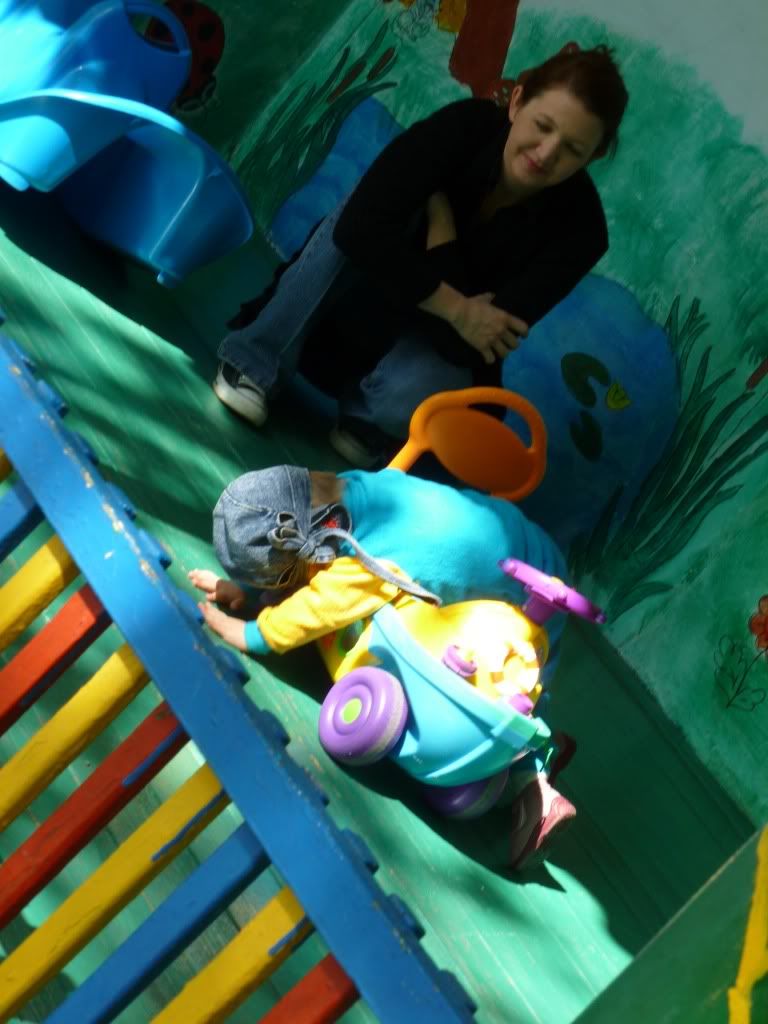 As we were making our laps around the orphanage toward the end of our visit, a little girl kept going crazy when we would pass by! She would yell out his name almost with panic! It was like she was worried about him. It was so cute! And I love how she knows his name and they aren't even in the same groupa! Maybe they were at one time or another.
But anyway, like I said, today was good and bad. It is awesome seeing our little boy happy but so sad to see those little ones transferred to where a child should never have to go. Please pray for them...
I learned today that a baby house very close to ours is shutting down for good and a 15 month old adorable boy listed on Reece's Rainbow is headed for the mental institution. Please pray for him as well!
Sorry that there is such sad news today but I don't want to sugar coat this experience. These children are in need and it's pretty hard to sugar coat that.
Until tomorrow! Paka Paka!
Chris's View:
Anyway, I guess the beetles figured they'd exact their revenge. Since our normal area with the swing was occupied this morning, we roamed to another swing near where we normally play. We decided against putting our dude in this one, since it looked like some sort of "droppings" were occupying the seat of the swing! Just then, I felt something fly by me, then something hit my neck! As I wiped my neck, there was a small wet spot... I looked at my hand and it was brownish-yellow! Oh no! I got "dropped" on! I did not see any birds, so I am assuming it was a beetle! Grrr! Off to the bathroom to wash my hand & neck! Guess I should have tried to help the beetle after all.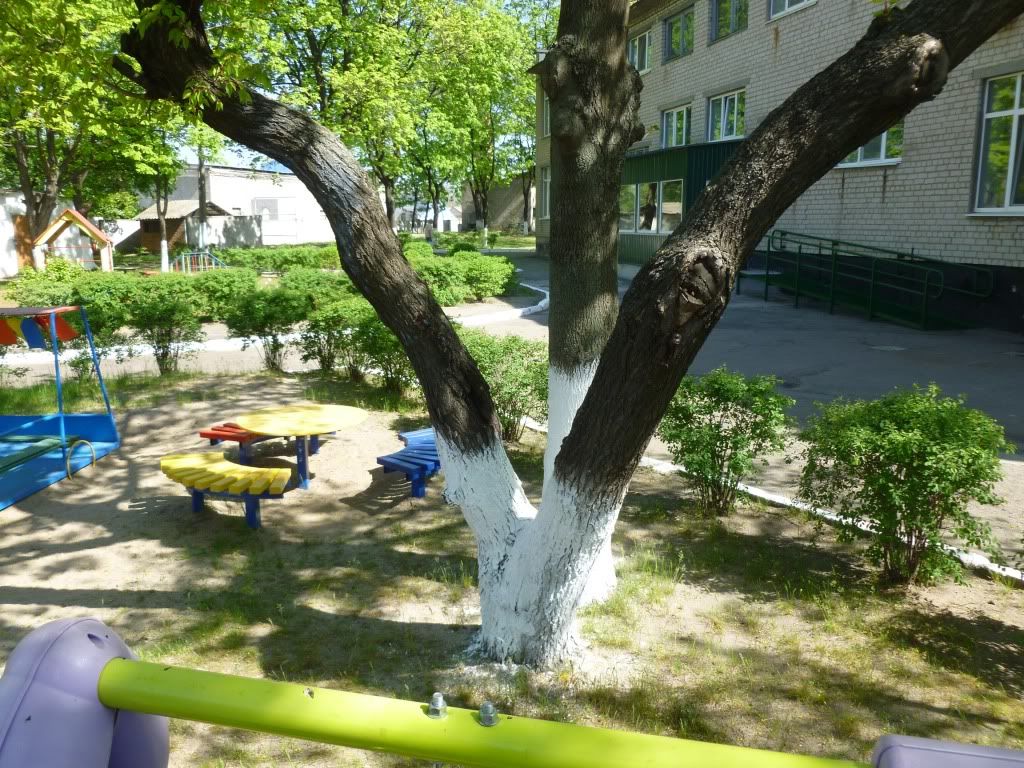 Speaking of entertainment, there was a puppeteer out today, giving each of the groupas little shows. The kids seemed really into it, and I am glad that people take time out to spend with these kids, who are unwanted by the society they were born into. I am impressed with some of the nannies here. They really seem to play with the children... at least most of the ones we have seen do.
One of the other things we have been curious about is the trees here on the orphanage property. They are currently being redone. Yes, these trees are being painted white on the trunks, from the ground to maybe 4 feet up. All of them seem to be painted about the same height, except for the new trees that are still really small, but even those are painted. Does anyone know why tree trnks get painted like this?
See ya'll tomorrow!