Maria's View:
Morning visit-
This morning the skies were so gloomy but then the sun broke through and it was so beautiful and warm! Did we still have to wear our jackets? YUP. That's just the way it is. We arrived at the orphanage and had no run ins with the little ones today. Walked by the kitchen and whatever they were cooking smelled good! Are we starving or what? haha. Then on the left, we noticed that our facilitator was in the office so we stopped by and she needed us to sign some papers. Then she told us that there is a paper missing from our dossier that has been removed from an appostilled packet. It's a paper that explains our military status in Germany and it's pretty important. Our facilitator is on it, though, and has called the Adoption Department in hopes that they will find it. If they don't, I'm not exactly sure what will happen. Yeah, I'm a little stressed.
I gave him his giraffe rattle and ball to play with but he was so, so tired. I guess he is more comfortable around us, at least enough to rest when he needs to rest. He popped his 2 little fingers in his mouth and put his other little hand over his eyes, laid down and was done. I tickled him to revive him back up again, took him to the window to stand and it was there that he took 2 steps for us! Then I noticed that he had a dirty diaper. We had about 30 minutes of time left and when you let the nannies know that he needs to be changed, your visit is over. So we dealt with the stench as long as we could, haha, and we could tell that he was ready for a nap so we had to take him back to his nanny. Our driver was no where near ready to pick us up so we sat outside the orphanage for about 45 mins until he arrived.
Evening-
Once we got to the door, a little groupa was headed out to play. We opened the door for them and watched as the nanny lined them up against the wall. Then she gave them permission to make their way outside. The nanny took the hand of one of the little girls and then screeched! I saw her throw a huge bug into the air. Apparently one of the little girls had picked up a huge beetle on her way out and the nanny had tried to hold her hand unknowingly! This is the first time that I have ever seen one of the nannies laugh. It was pretty funny!
Once we got to our play area, I took off all of his fuzzy clothes and before I was done, he had already put his fingers in his mouth and was about to call it a day! I tickled him and he was pretty much done. UNTIL our facilitator called us. He saw that cellphone and had to have it. Chris handed it over and he put it right up to his ear. It was ADORABLE! The nannies are always on the phone so there is no telling how long he has wanted to hold one and play with it! So we will be going out tomorrow to look for a toy phone for him. We let him play with the phone (shhhh! don't tell our facilitator!) until it was time to say goodbye. As we handed him off to the nanny, he leaned back in to Chris and acted like he didn't want to go with this particular nanny. She is new to us but she seemed pretty nice. So maybe our little boy is beginning to bond a bit with us.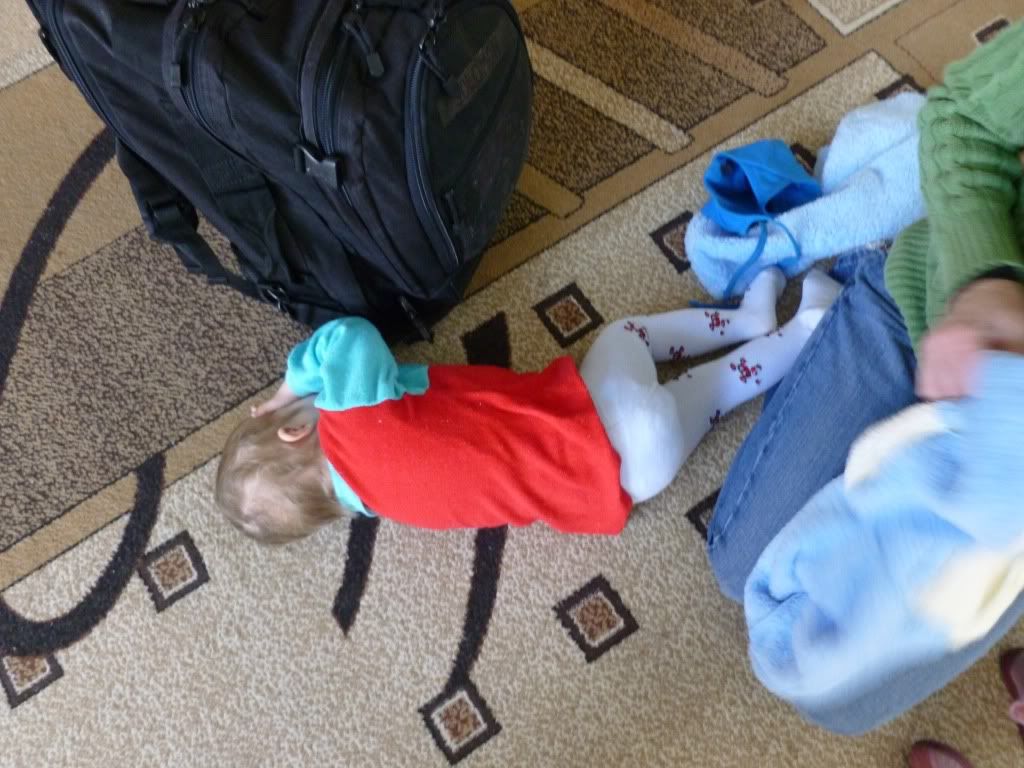 Until tomorrow!! This boy is too stinkin' cute!!!!
Chris's View:
Okay, sorry for not having many pictures on yesterday's blog, but I will make up for it today. Let's start with a quiz:
What is black, round and has an enormous amount of uses in this country?
TIRES
We all know tires help us get from point A to point B, keep us safe in the rain on slick roads and heck, the MythBusters just did an episode on square tires. Here, they take tires to new heights though. They are not just for cars anymore!
There's planters for plants.
There's blockades to prevent parking.
There's markers to denote areas like playgrounds.
There's garden boundaries (I think these may also be property lines)
Then, right in front of our apartment, there's this creative use!
Oh yeah, they can be used on cars too! Lol! I guess when you live in a marginalized economic system, you make due with whatever you can get your hands on. It is really eye opening since we are so used to the American way of life, which has become a disposable way of life. You get new tires, you have the tire store recycle the old (for a nominal service fee of course), when we could be taking them home and burying them in our yards to make all sorts of benches and playgrounds, and cemetery fences.
Speaking of cemeteries, our driver took us a new route to the Karavan today. Today is actually the continuation of "Father's Day" that I spoke on yesterday. He took us by, what we can only imagine, is the main cemetery in the city. It was monstrous! I think it could probably match up to the size of Arlington National Cemetery. For those of you who have been there, you will understand the size of this place. For those of you who haven't I really cannot describe the sheer size of the place. There are roads criss-crossing it. This one was a more modern place than the other cemetery we pass. Yes, it still has many old metal crosses marking the grave sites, but this one also has massive marble headstones, many with amazing laser engraved photos of loved ones lost. Each familial grave site seems to be marked off by low, heavy iron fences, and many families were sitting inside the fences eating and spending time together. I don't like cemeteries, and never have, so this would be a rough custom for me.
I am running out of things locally to highlight on the culture side of the house. Hopefully we can get out and explore our surroundings a little bit this week and I can keep these write ups fresh so ya'll can get a glimpse into the culture and life of our little guy.
See ya'll tomorrow!