Maria's View-
The weather is warming up and this evening, the nanny put him in shorts! His skinny little legs are SO cute! I just love this little stinker!
Today, we had the pleasure of meeting another precious little boy listed on Reece's Rainbow that I hoped to see at this orphanage! He's adorable and the nanny let me shake his cute little hand.
I keep telling myself that we came here because God sent us and He will provide the hedge of protection that we need to get our son safely out of here.
When I am afraid, I put my trust in you. Psalm 56:3
For God has not given us a spirit of fear and timidity, but of power, love, and self-discipline. 2 Timothy 1:7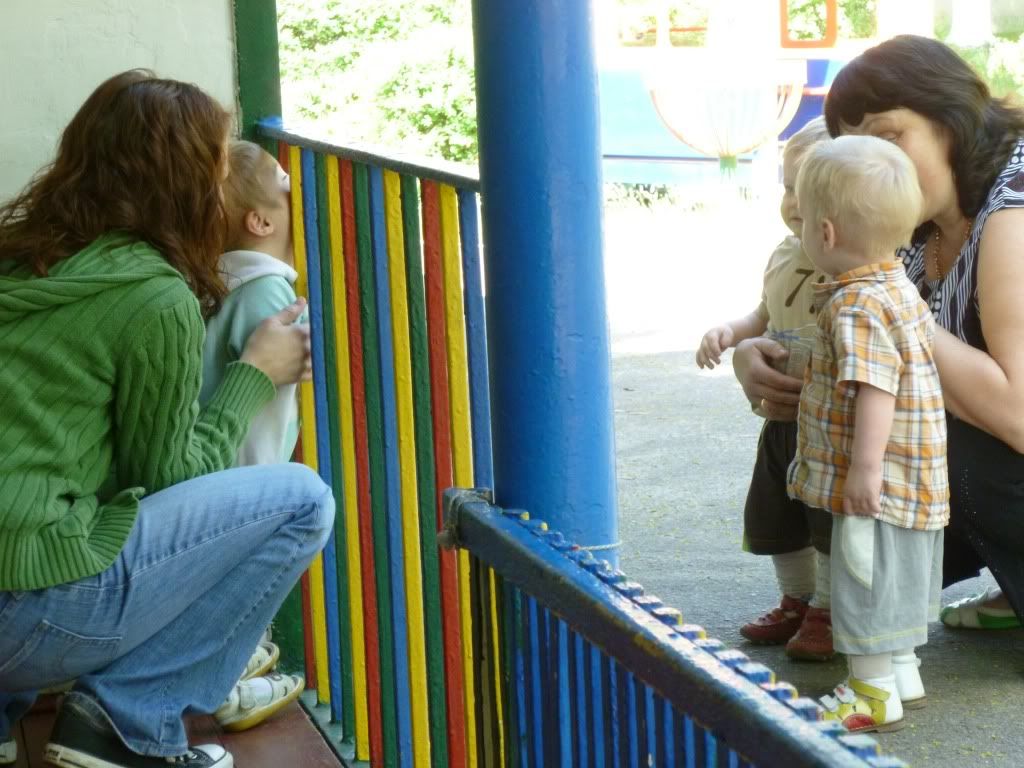 He will cover you with his feathers. He will shelter you with his wings. His faithful promises are your armor and protection. Do not be afraid of the terrors of the night, nor the arrow that flies in the day. Do not dread the disease that stalks in darkness, nor the disaster that strikes at midday. Though a thousand fall at your side, though ten thousand are dying around you, these evils will not touch you. Psalm 91:4-8
Please pray for the people who were injured by these bombs. As of right now, I don't think there are any deaths, Praise God. But please, pray that we remain safe and that God will help us get our little one out of here with no problems.
Chris's View:
As soon as our facilitator called and told us of the events downtown, I immediately went into Force Protection mode. Those of ya'll in the military, or have been in the military since the Kobar Towers attack in 1996, can relate to what I am going through. We get this stuff drilled into us and we must redo the CBT's (Computer Based Training for those of ya'll not up on the military lingo) each year, and to many of us, it becomes so repetitive that it seems like a joke. Rest assured, that knowledge is stuck in there in one of those little brain folds. It was almost as if I was running a checklist on the entire situation.
Enough of that, hopefully it won't happen again, and it will turn out to be some stupid soccer fans or something.
As we sat on our normal bench this morning before our visit, we talked about the artwork that decorates the interior walls of the orphanage compound. It seemed like fairy tales from this culture. Sure enough, when we got to lunch, I checked and they are. I plan on doing an entire blog post about them, so we are going to try to get pics of all the major pieces of artwork... maybe we can do our little dude's walls in these fairy tales. Maria thinks I'm nuts, but he may really like these pictures!
Above the main piece of art we gaze at when we sit on our bench, we see an apartment building. It is nothing to look at really, in fact, it is almost a constant reminder to these children of the conditions that lay in wait for them on the other side of the orphanage walls. It struck me, and I looked at several other buildings today just to be sure, but this culture has a weird construction method. They build in boxes. Almost as if you don't pay your rent, some magic arm will move up the outside of the building, grab your apartment, pull it out and dump the contents, place it back and disappear again. It is pretty crazy, almost modular.
Hopefully tomorrow will be a little less tense.
See ya'll tomorrow.