Maria's view:
What an awesome day we have had! I'd say it was pretty close to perfect! Every prayer was heard by God and he granted us such a wonderful first meeting with "Finn"! It was everything that I dreamed it would be. Perfect.
Let me back up, though, and start at 11pm last night. We boarded our overnight train to his region and slept the best that we could. I forgot to pack a blanket so we were pretty chilly... so for those of you who are about to make this journey, pack a blanket!!!
At 7AM there was a knock on our sleeper car door and it was our facilitator and driver! They boarded the train when it stopped and started searching for us. We are in great hands here! Our facilitator let us know that it was going to be a very busy day and she wasn't liein'! We packed into the car and she asked if we needed breakfast. I had cereal bars in my suitcase so we said no. Big mistake! I will never turn food down again! It was almost 3pm before we ate a full meal. I was starved!
They took us to our apartment around 7:30 and it looked a little shady on the outside but it is so cute on the inside. It's immaculately clean because someone actually LIVES here. They moved in with someone else just so that we would have a place to stay in this city! They are giving us a pretty good deal on the rent, too, and since there is a kitchen, we can cook our meals and save some money!
We were told that she and the driver would return at 8:30 so that we can start our appointments at 9:00. So we had only an hour to get ourselves somewhat settled and into some clean clothes for our appts. RUSHED! So we were promptly outside right on time. We were whisked away to our social worker's office. She seemed very stern at first but then she began to soften up. Our facilitator translated for us and we had to explain how we will be able to care for a child with Ds and how the military health care works while living overseas. She seemed very pleased and satisfied with our answers. We will make sure that he has the best care possible!
We made our way past the kitchen and the cooks were preparing lunch. I'm pretty sure that they were preparing soup and it smelled pretty good! (we were getting hungry by this point) Just past the kitchen, we hung a left and ended up at the doctor's office. We were told to have a seat as we watched so many people in white uniforms scurrying all around us. I looked at my facilitator with a questioning look on my face and she reassured us that it was a committee... "A committee? We had to sit in front of a committee??" She then reassured me that the committee wasn't for us, but that the orphanage was having a surprise inspection. Because of this inspection, things were going to go a little differently.
Finally, the doctor was ready to meet us and go over "Finn's" record. She gave us a lot of great information, including all of his health issues, and I have to say that our little guy is pretty healthy!! So thankful for that. Then the doctor asked why we would adopt a child with Ds and since we had already told our facilitator our answers, she took care of the questions. And then I heard a door open as the doctor was talking to us and a nanny came in carrying our little "Finn". We had no time to capture the moment on video. I didn't know if I could go to him or if I needed to stay seated while the doctor was speaking, but the facilitator said, "Maria, you can go to him." and I jumped up out of my chair and took him so quickly out of the nanny's arms. He felt so perfect in my arms and was so excited! He kept laughing and looking around the room... then he would look at me and laugh, etc. He was an extremely happy little boy! I loved on him as the tears flowed. It was amazing to finally hold the little boy in my arms whom I had only seen in a picture. It was an awesome, amazing feeling. I then handed "Finn" over to Chris and there was an instant bond! "Finn" kept rubbing Chris' face, feeling the stubble of his beard that he didn't have time to shave off this morning. And then, "Finn" leaned in and gave Chris the sweetest kiss on the cheek. It was adorable!! For about 5 minutes, everyone else in the room faded away and it was just the 3 of us. Finally, our facilitator said that they needed to take him back to his groupa so that they could continue going over the information with us. They also needed to get back to the inspection and they really needed us to "disappear". So when our appt was over, we did as we were told and sat in the car until our facilitator was finished with the paperwork.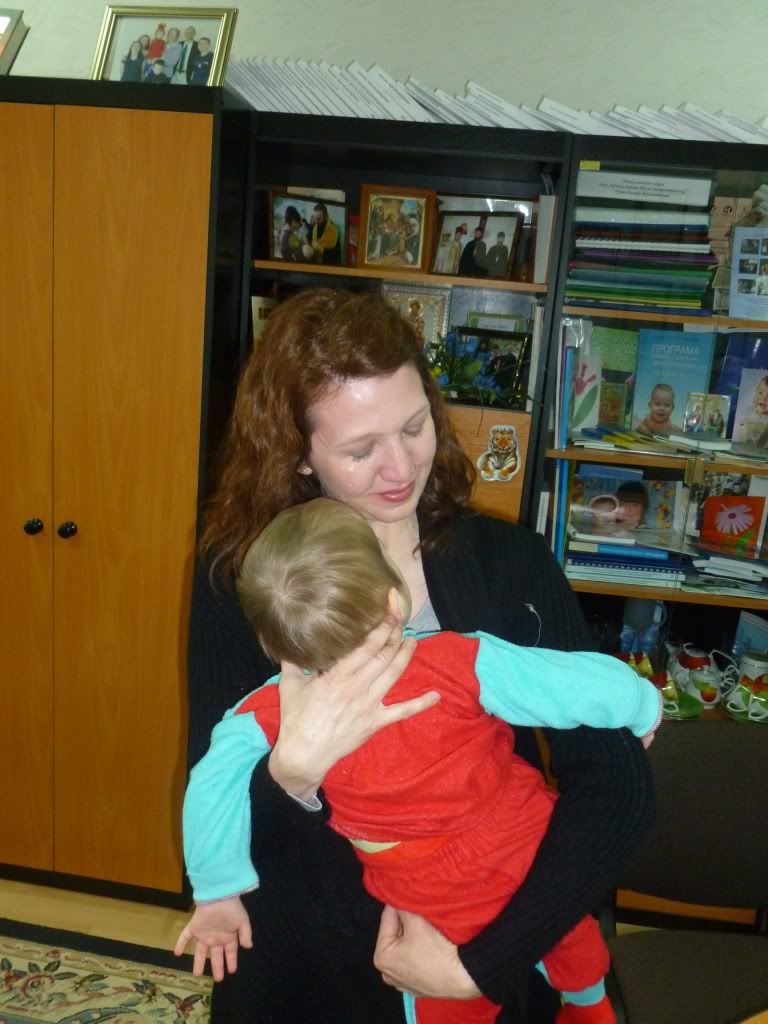 Then, it was paper chase time. We had to go to the social worker's office, and then we had to go to another social worker's office that was in the same part of town as "Finn's" mother. After that, we had to go to the notary office where we waited for probably an hour for everything to get typed up.
We will proceed with setting up a court date and hopefully everything will work out smoothly! I pray that God will continue to pave the way for this little boy to become ours. He's not ours yet and anything can happen... so please pray for God's Will to be done in this little boy's life. We want him to be our son and will do our very best to provide his every need!
Chris's View:
Wow... what a day! Day 3 started with an EXTREMELY bumpy ride! The train from the capitol city to the city our son is in was about 8 hours overnight. We had our own sleeper car, but it wasn't AMTRAK at all! It was some vinyl bench type things with maybe a piece of carpet padding under the covering. Top it all off, we were right next to the bathroom... it wasn't bathroom smell that got us, it was the smokers who were participating in nasal terrorism all night. It was pretty cold, but we dared not use the bedding that was in the car, as we have heard that it's a good way to catch scabies. Yeah, I think I'll pass thanks!
We arrived in our son's city at around 7am and met our driver and regional facilitator. It was pretty interesting as they said they almost passed us up cause we looked like the local population here. We were whisked off to meet our landlord for the next few weeks. She is a nice lady, a little older and very particular about the apartment. Basically, it is her apartment where she lives, but when Americans come over, she moves in with her daughter and sublets the apartment. It's not a bad place, definitely better than our last apartment, which, by the way, we got barged in on last night... long story, but it all got worked out without us feeling toooooo uncomfortable. This place has most of the comforts of home... cable (not one channel in English), Internet (not wireless though), kitchen, washer, etc. It's also within a 3-7 minute walk of 3 grocery stores, and one of them is a pretty large mall with a skating rink in it.
Anyway, after freshening up a bit, we went to the regional social worker's office. She is a nice lady who asked us several questions, including the one that is becoming the most asked... "Why a child with Down syndrome?" We explained it the best we could and she seemed satisfied with the answer. She asked several questions about what our son's life will be like in the states and such. It was relaxed, but she wanted the answers. Afterward, she climbed into the already crowded Chevy Aveo and we took off to the orphanage.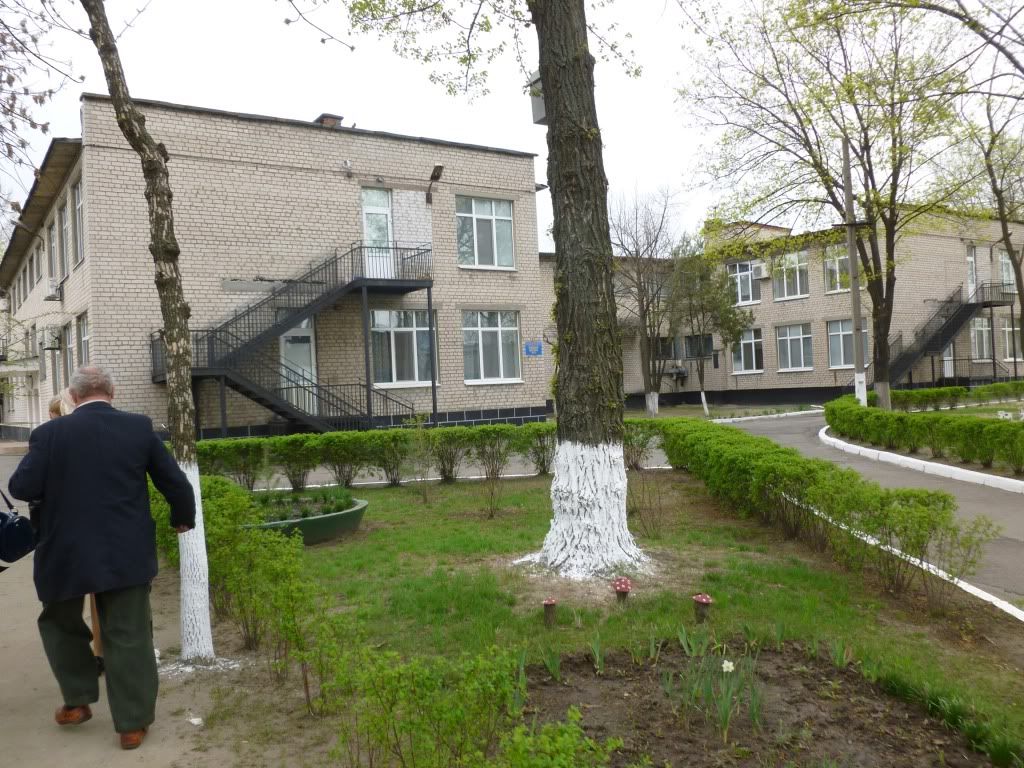 Everything on the way was very dirty and is not anything you could really imagine. The roads are all confusing, the drivers are all crazy, and you wonder how these people could live like this. We arrived at a gated compound with the most green grass I have seen since arriving in this country. Our facilitator took us through the gate and up a walkway to the front door. As we approached, the door opened and several children came pouring out as they prepared to go to the playground. One little boy at the front of the line stopped, got the biggest grin on his face, locked eyes with us and began to wave to us! My heart melted and broke for this little guy! I felt tears welling up in my eyes, and could not imagine how or why anyone... ANYONE... could turn their back on this little fella! They were promptly ushered to the playground, while we were left facing the door.
As we walked in, the smell of lunch being made was very prominent. I know many of us have the idea that kids in orphanages get gruel or porridge for meals. Well, if that's what this was being cooked, sign me up. It smelled like some amazing vegetable beef soup being simmered. I pray that this is what these children are getting anyway. We were shown into an office and there were several women in white doctor's coats. Come to find out there was a big inspection at the orphanage and we have to be very fast with our visit, so the officials would not begin asking questions about us, our immunizations, etc. The doctors went over our son's file piece by piece. He's a healthy little boy, and that is the most important.
We were told to "disappear" due to the inspection and we took off to do paperwork. We literally drove all over this city. We went down some streets that I think the pot-holes would rival a Mississippi washed out dirt road! I think at one point the entire care was in a pot-hole! How these people navigate over here is beyond me. Nothing seems marked, and some of the places we had to go were literally down alley ways behind apartment complexes, where you'd have to drive under steam pipes to continue traveling down roads. It was pretty crazy.
It was an exhaustingly long day, but oh so rewarding. Tomorrow starts 2-A-Day visits!