Maria's view:
Morning visit-
I woke up at 7:00, exhausted, stumbling into the kitchen to put the little teapot on to boil so that I can make my fake cup of coffee. SOOOOO glad I brought some with me because I haven't found any of what I like on the shelves. I patiently waited for the water to heat and then I tilted the teapot to pour the water out and the lid fell off. The steam burned my hand enough to cause blisters. Note to self, hold the lid on! I packed medications for every possible situation but burns. I may have to make a trip to the pharmacy.
I also had a horrible dream this morning. Our orphanage does lab work on all children right before court so that they can make double sure that all of the children are healthy and have no undisclosed diseases... well, I dreamed this morning that my facilitator called to let me know that we can't adopt "Finn" because he had a disease and the US wouldn't allow him to enter. I'm sure this is only the beginning of a whole bunch of crazy dreams!
Our morning visit went well! I was glad that this weekend nanny knew to dress him up in his 3 layers so that we could take him straight outside for his fresh air. I really think he enjoys being out there! I'm not sure that he ever gets to play because he's not a walker. They frown upon children sitting on the ground in this country so I really have no idea what kind of experience he has had.
After our 20 mins, we took him inside and I believe he expects for us to take his layers off immediately. He starts grabbing for his little hat and tries to pull it off while I take his shoes, pants, and coat off. Today, he enjoyed walking along the wall while holding onto the windowsill. He spent a lot of time there today. Just examining the pipes that run beneath the windowsill. He's so curious. We played ball with him and I brought a thermal blanket for him to play with as well. He tries to cover himself up so I'm pretty sure he has a blanket in his crib and knows how to use it.
Evening Visit-
We left straight from there and went back to the orphanage. Chris and I had time to just sit under the trees on a little bench and wait for 4:00 to arrive. We don't want to go in too early because we are afraid that they will either rush feed him or not feed him at all. It started to sprinkle so we went ahead and headed inside. As I made my way in, the same little group of children that we saw yesterday made their way around the corner and one little child bumped into my legs. She stopped, looked up at me, and then wrapped her little arms around my legs. I bent down and patted her on the back. Such a sweetheart.
I hope that "Finn" is more active tomorrow with his exploring. I enjoy watching him do that and it's hard not knowing why he's frustrated. I hope he's not sick. He really is a sweet little boy. Please say a prayer for him! Thank you so much!
Chris's View: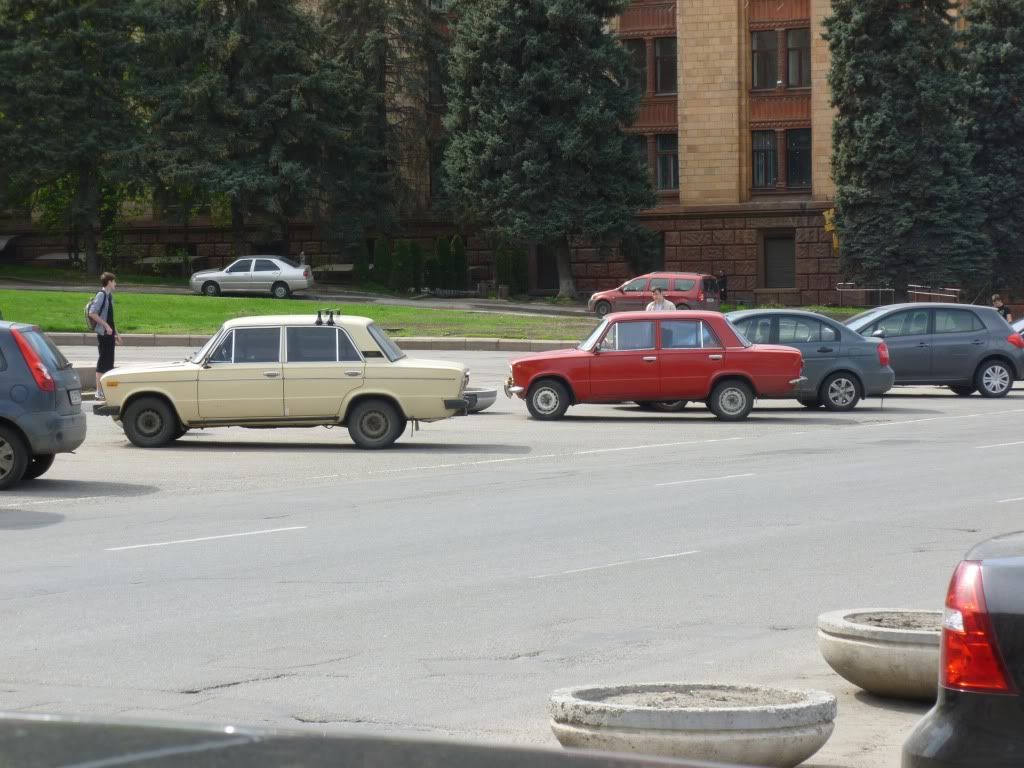 Today started off pretty good. The bed in the apartment definitely isn't our bed at home. it's pretty hard, so I don't think we are getting adequate sleep. The ambient sounds, especially the car alarms and dogs attacking each other, tend to prevent you from getting much deep sleep. The big thing is I don't even understand the need for car alarms on these cars at the apartment. This is definitely not a deluxe apartment in the sky on the Upper East Side! Most of the folks here seem lucky to have the clothes they are wearing. The majority of the cars in this area are a brand called Lada. They are boxy and these in the picture are some of the better looking examples that just happened to be near us when we were downtown today.
We strolled along from booth to booth looking through the items, trying to get a list together of things to give to our son each year on his "Gotcha Day". Breaking this sweet boy out of the prison he is being kept in will always be a special day, and we want to commemorate it each year. The one thing I did not find today was a scarf from the local soccer team. If you must know anything about soccer in Europe, they are more fanatical about it than Americans are about any of our sports... college football for SEC teams is pretty close, but their love for their local soccer teams is something they would gladly lay down their lives for! Our friends in Germany can attest that on just about every street corner in Kaiserslautern, you can find a vendor selling the team memorabilia... not so much here.
After the vendor market, we walked up to the city's main cathedral. It was very beautiful. The other mother wanted to buy an icon (ornate card looking item) of the saint that their daughter is named after. Such a great gift for their little one!
See ya'll tomorrow!