Chris's View-
Today was a pretty good day, I have to admit.
We got up this morning & I did laundry while we waited for time to pass. We went to meet an adopting family down in the main square this morning. I wish we would have had this opportunity, to get straight answers from someone who had just been there & done what we were just starting. After I hung the laundry up to dry (2 hours and 35 minutes to wash a single load!!!!) we took off for the main square.
We saw them setting up yesterday when we went out for our walk, but today is the start of a huge soccer tournament here. We got to walk through the Fan Zone before it got crowded. It looks to be like a lot of beer vendors & soccer swag sellers. Not our bag, but we figured we'd take a stroll through on our way back to the apartment... I mean, we had to walk that way anyway.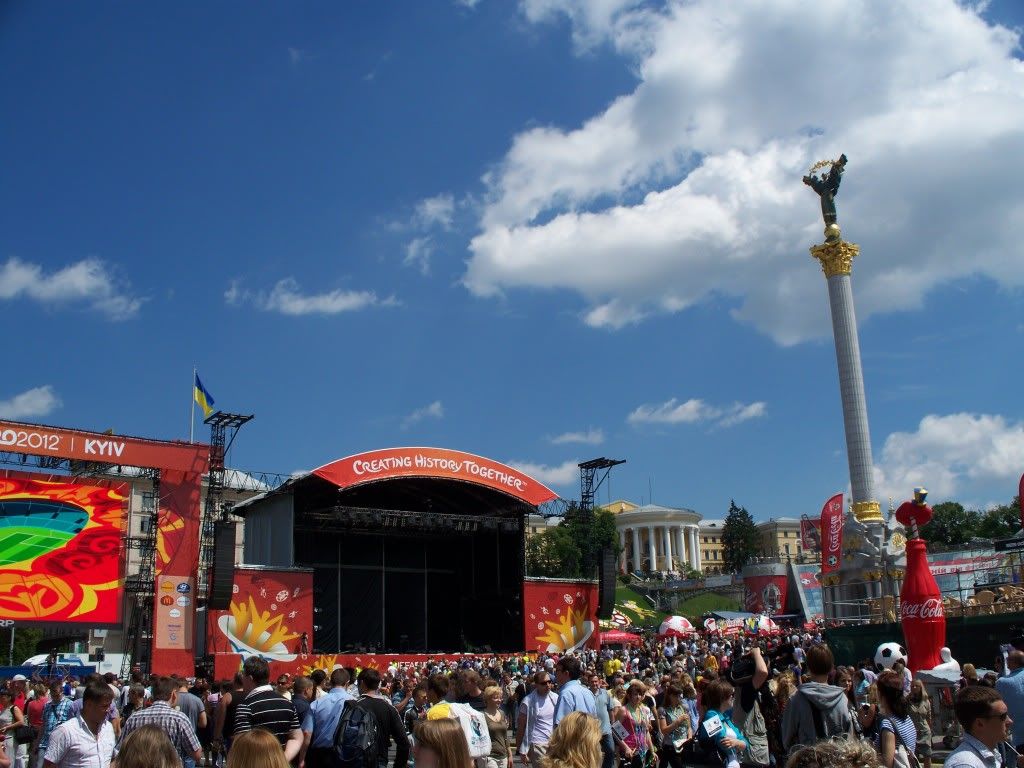 We met up with Mark & Rebecca, the adopting family. They were a pretty awesome couple who are adopting two little ones from down not to far from where we adopted. It was good to pass on my experiences to someone else, and I hope that the information I was able to provide will help them in their journey. On a side note, Mark has a pretty amazing skill that he's using for a fundraiser... stay tuned, cause from what I saw, it was pretty neat! He said he'd send me the link to his Google+ site where he takes orders!
Afterward, we walked through the Fan Zone... yep... as I expected, lots of beer & soccer swag. We looked at some of it, but the shops were very repetitive, all overpriced and not a huge selection. I would get him something, but there was nothing that was specific... which reminds me, we need to find a Christmas ornament to mark this trip! Maybe I'll have time to hit the Christmas store in New Orleans where Maria & I started our little tradition!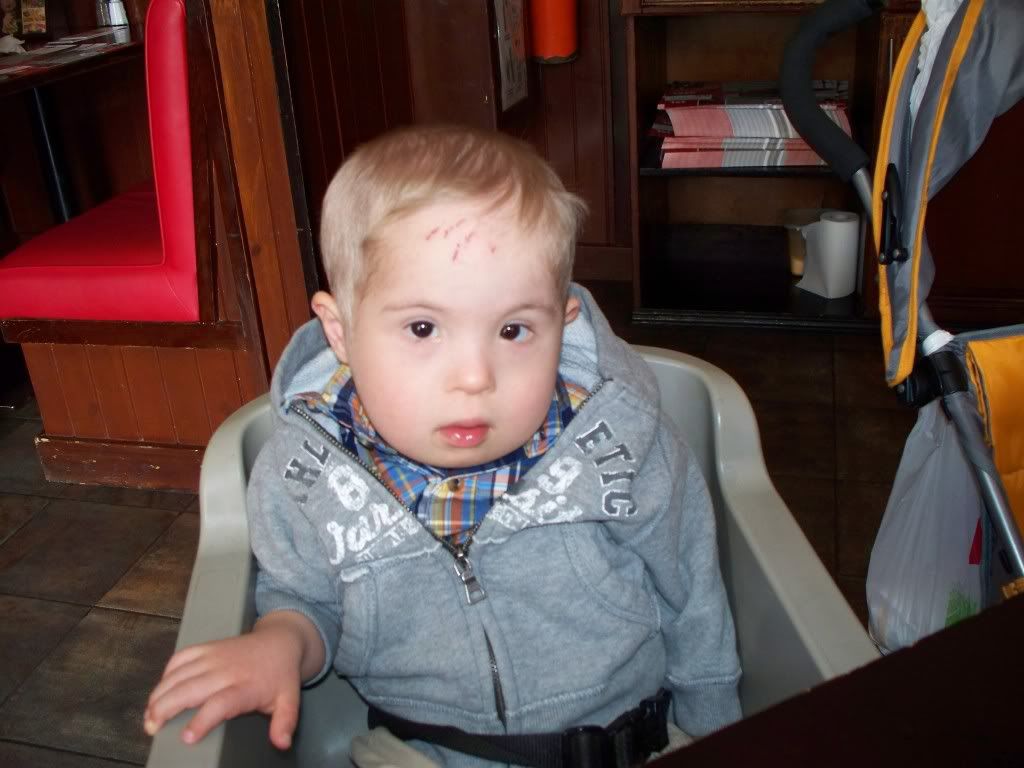 We stopped by TGI Friday's for lunch... I mean, since we were passing it and all! LOL! He did great again, still no food issues, other than I couldn't shovel in the cheesy mashed potatoes fast enough! He loves them. After we ate, we stopped by the grocery to find Griffin some dinner & breakfast. Since we are getting up at the crack of dawn to go get on an airplane, I needed to find a smaller thing of food, one that the security folks wouldn't have a coronary over. I found one that was apples & peaches mixed. Seems like he'll like that. It was a 2 pack, and the other jar said "pastinake". I had no idea. I fed them to him and he could not eat it fast enough. He honestly LOVED it. As much, if not more, than the cheesy mashed potatoes. Come to find out, this is parsnips. I have never had a parsnip as far as I know, nor have I seen them in the store. They have some odd baby foods here!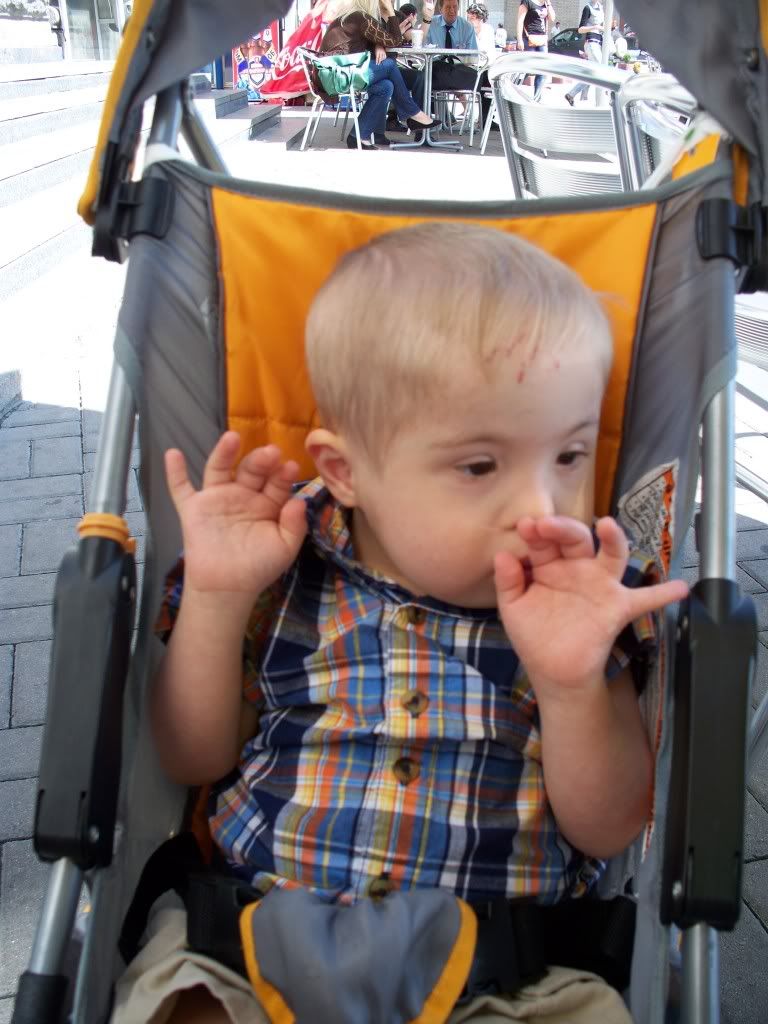 I went to a little place called stop & eat, right here by the apartment, for dinner & got it to go. it was the stop & eat burger... doner meat on a sesame bun with "chedar sauze"... yep, you read that exactly how I saw it! Too funny! I should have known that it wouldn't have been good, I mean, it's "chedar sauze"! As my wife says from time to time, "Gag a mag!" LOL! Griffin did great while we waited for my food though, and seemed really interested in the people speaking Russian. I wonder if he misses hearing it all the time from his nannies.
Well, I am off to pack. This will probably be my last blog until I get settled in the US. It's already shaping up to be a hectic time, but I promise to keep ya'll posted on the progress.
See ya'll when I see ya'll!
Maria's View-
Our girls are doing so much better! It appears that Big G may have had tonsillitis but never complained of her throat hurting until after she was certain that she had officially missed field day at school. She held out hope that I would take her, bless her heart. So I looked at her throat last night with a flashlight and sure enough, there were healing spots on her tonsils. She really does not like to miss school so I honestly never know exactly how she is feeling.
Little G had her first dental appt today and you would think she was fighting for her life! ha ha. MERCY did she fight. This dentist was absolutely amazing and I will recommend her all the way. I prepped her for Griffin and she is excited to take care of his little teeth as well! It takes some amazing people to be able to work on children's teeth...Little G bit her hard, multiple times, and she just smiled through the pain. After she was done, I cuddled with my baby for a few minutes while the dentist talked to me about fluoride and tooth eruptions and then she handed her a toothbrush... Little G jumped out of my lap, headed to the door, and yelled "bye bye". Done. :-)
Have I mentioned that I LOVE being a mom?
Chris emailed me a picture of our little dude dressed up in khaki shorts and a plaid shirt and he was just so handsome!! I can't wait to squeeze that little boy again. I'm looking forward to hearing about their adventures today! I believe they are going to be out and about with other adopting families.
But anyway, that's about all I've got for today! Just looking forward to having our family of five under one roof!