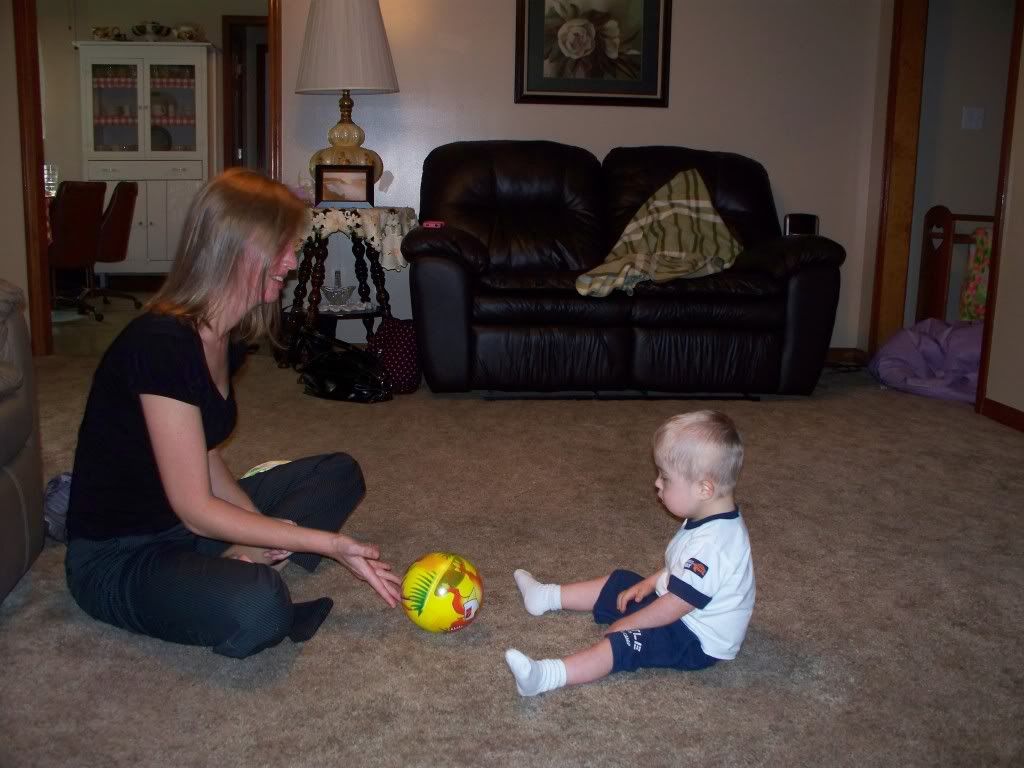 Chris's View-
Today was simply a great day to say the least!
We got up this morning, and we both got some great sleep. Griffin seemed to sleep really well in the crib and slept solid till 6:30ish. I got up and fixed Griffin a couple scrambled eggs. He seemed to just chew & chew the eggs and wouldn't swallow. What I noticed was he chews the eggs forever, but other foods he chews and swallows. Interesting behavior to say the least. Not sure I completely get it, but hey, maybe it won't be something that is too hard to break.
He played ball with his Aunt Michelle before she had to go to work. He had a great time playing. He actually threw the ball a few times today. After breakfast, I got him bathed up and dressed him in his new USM Golden Eagle gear that was a gift from my cousins Moon & Leigh. He got to visit with them yesterday too! Maria put it best when she said a child that no one wanted is now loved by more people than we can count! What an amazing life this little boy now has!
Today Griffin got to meet a lot of family members, to include his namesake, Nathan Lowe. First thing this morning, after breakfast and baths, Maria's Uncle Gerald, Uncle Pete & Aunt Ilene came over. he played ball with Uncle Pete and everyone just doted on Griffin, but with his schedule, he eventually wore down and I had to put him down for a nap... this was like 10:00. He slept till 11:15 when I had to wake him up so we could go to a lunch with my best friend from high school.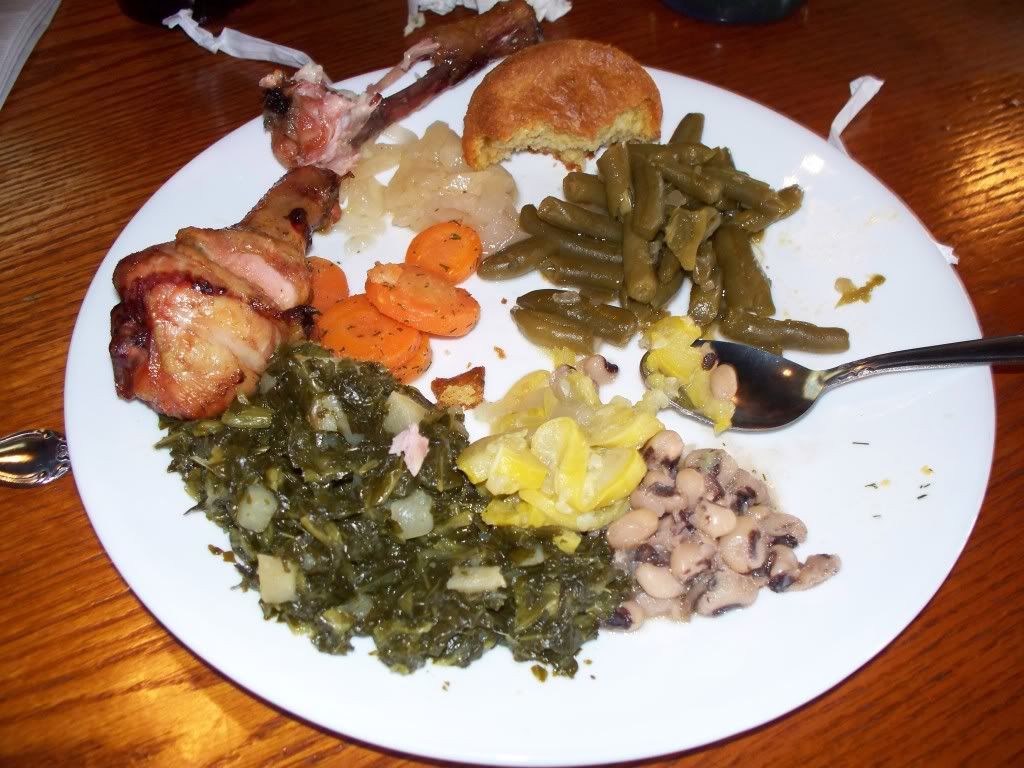 At 11:30, we met my buddy Jeremy at a local restaurant called Movie Star. It is a southern cooking buffet. They had smoked chicken legs that were superb! I put some of every vegetable on the buffet on the plate, squash, green beans, black eyed peas, you name it. Every bit of it was amazing! HE ATE THE WHOLE PLATE!!!!! I ate the chicken legs, but Griffin devoured the veggies. Even the carrots, which he did not like the first time I tried him on them. Jeremy & Kyleigh loved hanging out with Griffin today too. This brings up a very real issue that I want to address.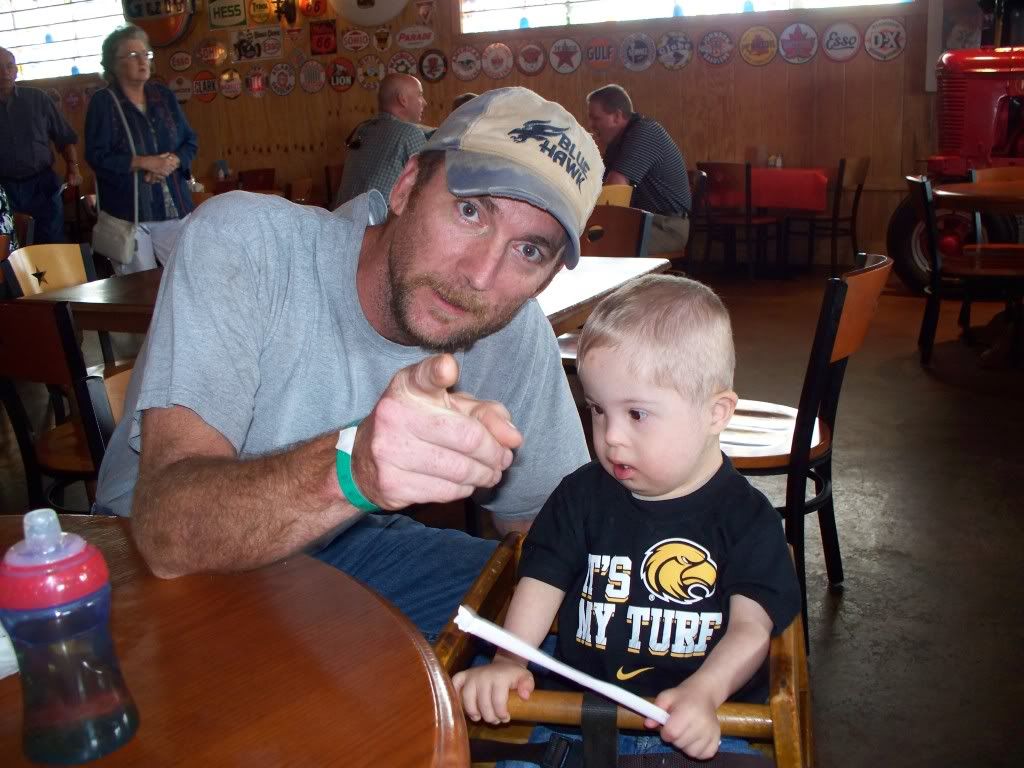 Our little dude has not had a BM for 6 days. He has eaten many plates of veggies, baby foods, eggs, and had a lot of apple juice. All things that should keep our little man going like crazy. I tried everything but prunes. Nothing would make this guy... make. So, me & Kyleigh hung out today and went shopping together. While we were at Target, I popped in to get some pharmacy consultation. I explained to the pharmacist that Griffin was adopted and we got home a few days ago, but that he hadn't gone to the bathroom for 6 days. He said that he was pretty worried, but that maybe we could resolve this without a trip to the pediatrician. He handed me a box of kids glycerin enemas. He said that these should do the trick and after giving him the treatment, he should go in about 15 minutes... the box said 15 minutes to 1 hour. Anyway, I got home & gave him the treatment and sat him on the couch beside me while I talked with Maria. He began grunting and bending over. Eventually he laid his little head in my lap and I saw a single tear drop from the corner of his eye. Then, at long last, he went... and he stunk me out! I felt so bad for him. I took him to change his diaper and it was like a chunk of brick in the diaper. Poor guy. Hopefully, now that this is out of his system, he will be more regular... especially since he is eating a lot of veggies.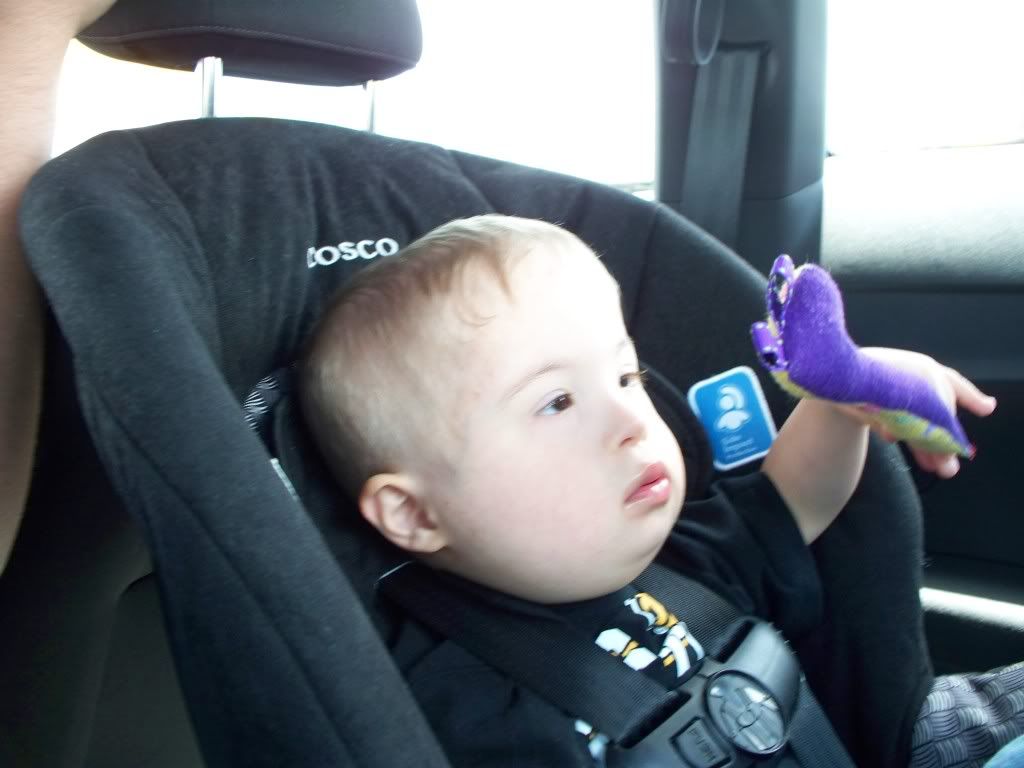 So, now that that part is out of the way, as I said, Kyleigh helped me with Griffin today. We went to look for a double umbrella stroller, a book for a friend, and some USM pajama's for Griffin. We found the pajamas, but nothing else. Bummer. I did get a tip on the umbrella stroller that I will check out tomorrow.
After our shopping trip, which was great relaxing with my niece, we came home and played a little bit. Afterward, I took Griffin to meet part of his namesake, Nathan Lowe. Nathan was the first child Maria & I were ever really around. Nathan is at Show Choir camp at USM all week, and it's a sleep over camp, so I coordinated with his mom, Brandy, to meet him at the Thad Cochran Center during his dinner break.
He came down with 3 of his camp friends. They all simply loved little Griffin! The little guy that was hanging out with Nathan even remarked that he wanted one! I told him to wait a few years! LOL! Anyway, Nathan sat down beside Griffin's stroller and before I knew it, Griffin was stroking his hair! He doesn't do that to me! He'll stroke my beard, but not my hair. He took right to Nathan... it was an amazing moment! But that's not the best part... he leaned over and gave Nathan some sugar on the cheek! He has only done that to me one time, the first day I met him. He hasn't given me sugars since. Then he hugged Nathan! I had prayed that Nathan would be able to bond a little with Griffin, to make the namesake stuff even more special for Nathan... another way that God has provided in the adoption! All of Nathan's friends pulled out cameras and started snapping pictures... there has not been one person, friend, acquaintance or otherwise, that has not simply fallen in love instantly with Griffin! See, Maria was right... he is loved by too many people to count! On the way out, Nathan called Griffin Nate and Brandy said he is resigned to calling him Nate... I think we can let that one slide for him!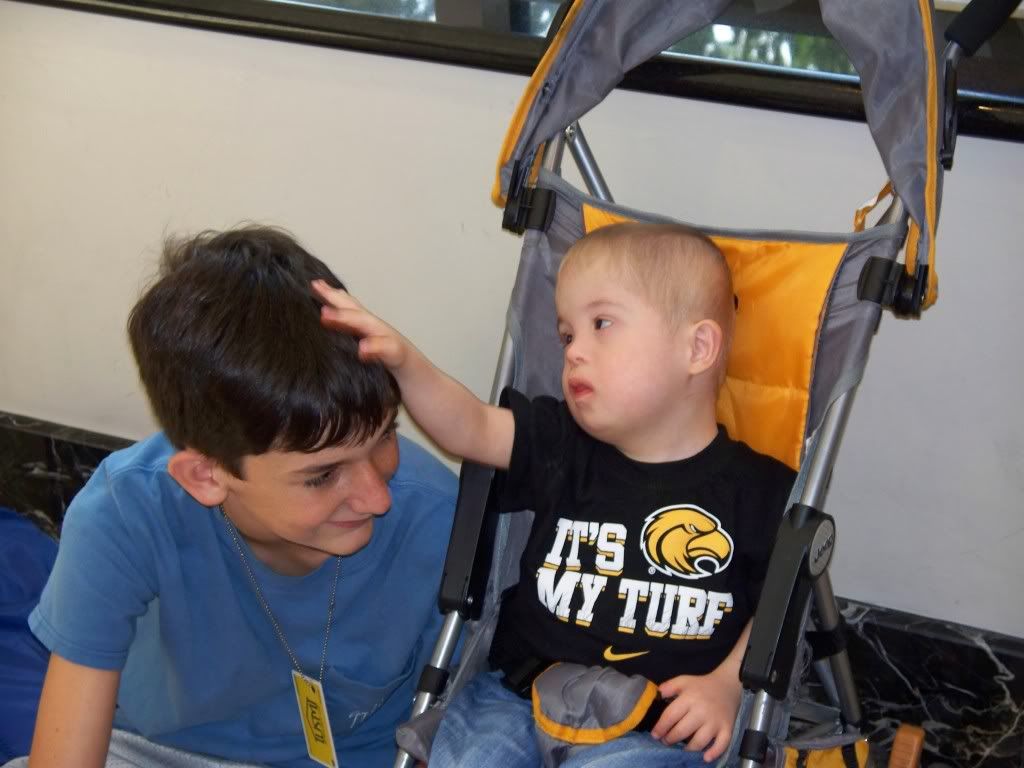 After our short visit with Nathan, we headed back to Oak Grove to Uncle John & Aunt Joan's house, where the family was at so Kyleigh could swim in their pool. Griffin is coming alive ya'll! Every time Kyleigh would jump off the side of the pool, he would laugh so loud! It was the sweetest thing I have seen him do! It was amazing to see him blossom like this... even this small step! It didn't matter if it was one time or a million times that Kyleigh jumped in, he had to throw in a hearty belly laugh after each one! It was so sweet!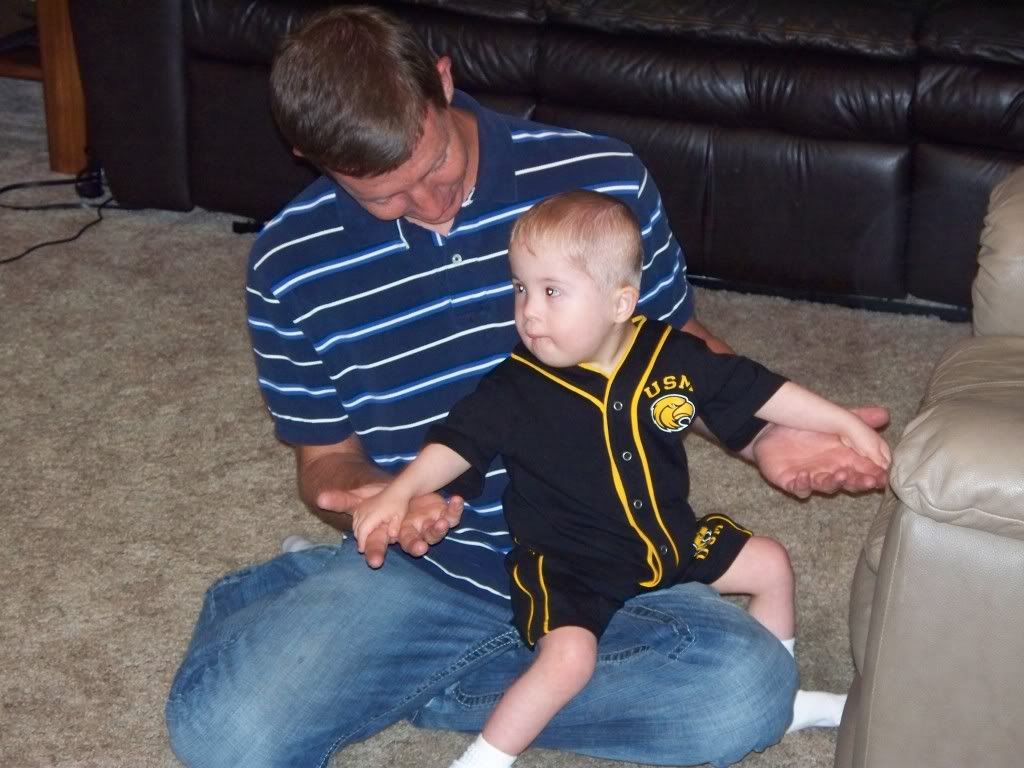 We went to pick up dinner next, and he babbled the entire time. We got back, I fed him his cole slaw and he was ready to play a little. He played with his Uncle Michael and it was really good to see him interact with Michael. We are debating getting him a faux-hawk before I head home! I don't think his hair is long enough though to spike up.
He went down super easy, though he rolls a good bit in the crib. He has been in 3 different positions over the past 3 hours.
Like I said, it was a GREAT day and Griffin is coming more and more alive everyday. I can't wait to see what this little boy becomes!
See ya'll tomorrow!
Maria's View-
Hey y'all! Nothing really new happening on this side of the world... just trying to prepare the house the best that I can! Slowly but surely!!
I washed Griffin's new bedding that I let Chris choose and he purchased it when he was in the states a few months ago. He chose a sports theme... but after meeting Griffin, I have learned that he's more of a dinosaur kind of guy! However, I have looked for dinosaur bedding and I just can't find any. So, sports it is! It's super cute, though.
I am LOVING all of the pictures that Chris is sending me of Griffin and my family. He is being so accepted by everyone who meets him and it just makes my heart want to explode!!!! This sweet little boy that no one wanted, is now loved by too many people to count! Thank you for loving our son.
I keep asking Chris if everything is okay, is he behaving, is he stressed out?!? And Chris just keeps saying that he's a perfect angel. I'm simply amazed at how well he's doing! AMAZED. God is so good!
Mercy, I love my 3 children. LOVE, LOVE, LOVE.
Until tomorrow! :-)